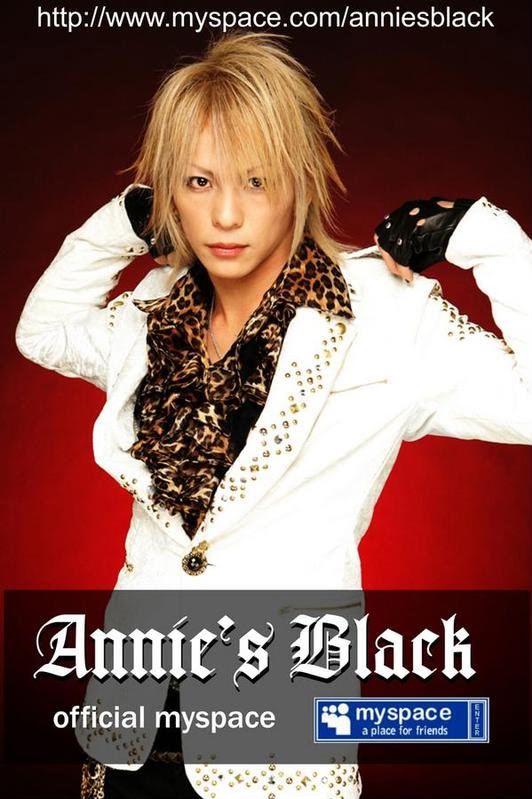 Annie's Black does not yet have a lot of content on their MySpace yet, but I became curious when I listened to what was posted. I passed the link to my coworker who immediately went into fan mode and introduced me to Sarino-san's earlier work with Shelly Trip Realize/TINC. I became even more curious to see what he was up to now, and requested an interview. What I found was a man very passionate about his music, serious about what he loves and sincere wish to share his dream with the world.
_____________________________________________________________________
Thank you for doing an interview with jpopexpress.com! Could you please introduce yourself to our readers?
Hi there! This is Sarino. You might know me by a visual-kei rock singer in Japan. Great to get in touch with you guys at jpopexpress.com!
You were previously the vocalist of the Oshare Kei band TINC. Was it a difficult change for you to go from a four-member band to a solo career?
Just talking about creating music, my job does not change much as I used to do everything from scratch like composing – I completed the music up-to the marketable level then gave to the members to practice. So what I do now as a solo does not change much. But well, I sometimes bite a bit of solitude doing officially all alone!
Annie's Black sound is very different then that of TINC's more pop/rock style. Is the changing of your sound to more heavier and darker a direction you have always wanted to go in?
As a child, I grew-up in a world with lots of black metal and hard-core rock. I cannot deny those influenced me… Now I am all free and solo – so I guess that core-part of me showed-up more clearly. I wanna be very flexible with Annie's Black. I wish everybody would enjoy my new sounds disregarding music genres.
What do you hope to achieve with Annie's Black?
Um, one of my ambitions is going to the world tour. Wanna connect with people around the globe with my music.
Fans who were with you during TINC are anticipating your new project. How does it make you feel to know your fans are still supporting you?
The name changed from Aioria, Shelly Trip Realize, TINC to current Annie's Black and I might have changed the sound style through the process, but my core is always the same. Just wanna make good sound that would make my fans happy. Really want to create music that would exceed you guys'
expectations.
Do you still keep in touch with Kenta, Takuma and Yuusuke?
Yep. They are just like my family. Always keeping in touch.
How did you come up with the name Annie's Black and what is the meaning of it?
Um… I have taken the name Annie from Broadway musical Annie, Anne of Green Gables and The Diary of Anne Frank, one of my favorite books. Guess Anne is always described as a cheerful and very charming girl with full of hopes. She is pure "White" if you name a color for her.
I thought the reality of human being is not simple as that. You know, everybody has a dark-side that s/he wants to keep deep inside. It might be aching loneness or pains in the heart that you always wanna hide?
Even "White" pure Anne has a dark side in her mind – as she is a human-being… I want to express such true naked feelings, sometimes dark and "Black", as a human being. That's "Annie's Black".
Do you have any plans to take Annie's Black outside of Japan and to other countries?
Unfortunately, the chance is not coming yet. I receive lots of messages to come and play in his/ her country through MySpace. (Great to know that there are so many fans outside Japan!) Guess it would be realized one day with you guy's support.
When can fans expect an official debut of Annie's Black?
The kick-off live will be in February 10th, 2009 in Tokyo. Wish it would be successful. My fans around the globe can access to my sounds through the net before the live so please keep checking MySpace!
Thank you once again for doing this interview. Is there anything you wish to say to your fans, old and new when they read this?
Wish you would enjoy my new sounds – so flexible and original. Looking forward to get in touch with you guys soon. Thanx!
Annie's Black has an Official MySpace page, and the OHP/blog of Sarino-san! Please go check them out!
Thanks again to Sarino-san for taking the time to answer our questions!
Interviewer: Hentai Tenshi